Memes are one of the most popular ways to express a certain opinion or a thought about a certain topic. It is one of the very common pop culture expressions on the Internet and many of us simply love sharing memes to our friends and colleagues. If you're going through process of understanding the new workplace at the moment or work in HR, then onboarding memes will be very relatable for you.
If you're unsure on what onboarding is, learn about it in our article What onboarding means.
We decided to show You the good, the bad and the funny memes of 2023 and separated them into 3 parts of this article. Sit back and let us know if You are planning on showing these to your colleagues to hopefully, have a friendly laugh together.
The good Onboarding
Onboarding memes are usually used to point out some examples of terrible organizational socialization and integration of new employees. Though, memes can also be used to show the positives in a lightly manner.
First thing's first
When you're just starting a new job – first thing's first, onboarding. It is the most important process that you absolutely have to go through no matter how good you are at your new job. It is a valuable experience that will make settling in a lot easier.
Of course, welcoming a new employee as many other things in life does not always go to plan…
Work family
We spend so much time at work that it is hard not becoming friends with somebody. If you're very lucky you might end up with a great team of colleagues around you who will soon become your friends. After all, these colleague's share similar knowledge and interests and know you a lot more than you probably expected.
Weird, but lovely colleagues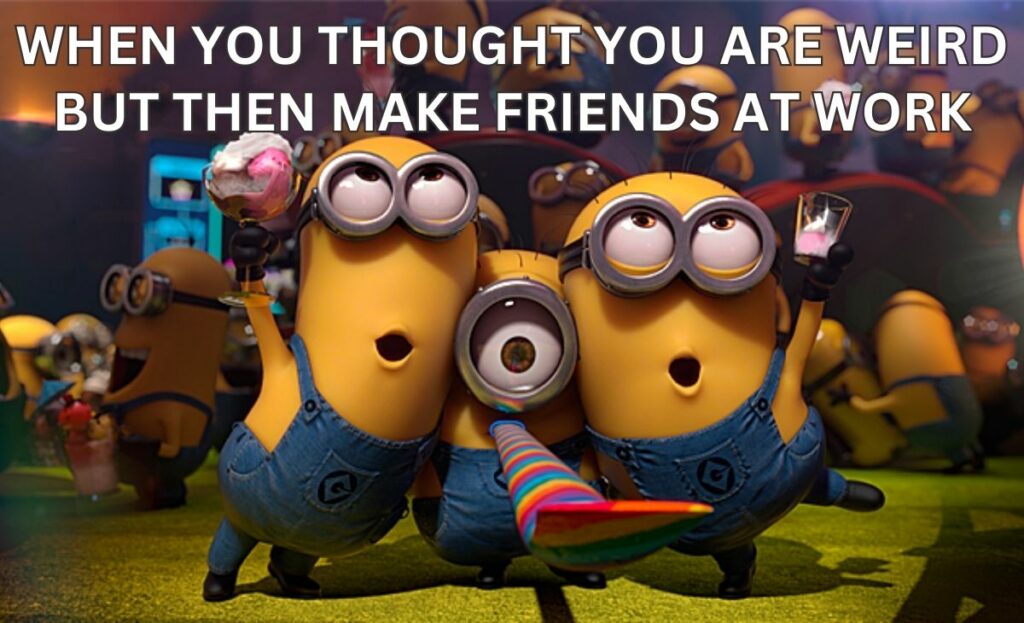 Referring to last meme, after you make your colleagues friends, you understand how weird they all are. But we happily share our differences, because that is what makes the team strong. Team of interesting individuals using their unique strengths in a happy environment to work for the mission of the company.
The bad Onboarding
There are lots of expectations, misunderstanding and overall confusion with all of the stuff that needs to be covered in the process of orienting a new employee. All we can do is embrace the imperfections.
Onboarding in theory
You know when they say to lower your expectations because that way you won't be disappointed? This can be taken into consideration with the process of onboarding as well.
Onboarding in theory is very nice – you expect everything to be explained to you in a slow pace so you can write everything down, memorize, when in reality organizational socialization can be a tad bit stressful, rushed and a lot less than expected.
Can you repeat the part about everything
Every meme or joke holds a little bit of truth in it. Same with this meme with Homer Simpson – one of the worst employees in TV show history.
As mentioned before, incorporating someone new into daily processes can truly be overwhelming. You might be running around and after your boss or mentor. The best advice we can give is to learn how to be humble and look at it as free valuable information. Nobody from HR or the team will expect you to be able to handle your responsibilities error free for the first day. So do not be afraid to ask questions – better ask twice rather than messing up later along the way.
Onboarding completed
Onboarding takes place in every company and organization at some point. New employees have to get prepared for the workplace routine in order to get their work done efficiently and productively.
For regular workers that have been with the company for years and years, it might be annoying. They just want the process of orienting a new employee to be over and done with. Especially if they are the ones providing the whole thing. So try your best to learn fast, however do not try to rush if you still have questions to ask.
The funny Onboarding
These next memes are meant as a joke. But jokes often happen in real life. We hope you have never encountered such problems in the following memes.
Still waiting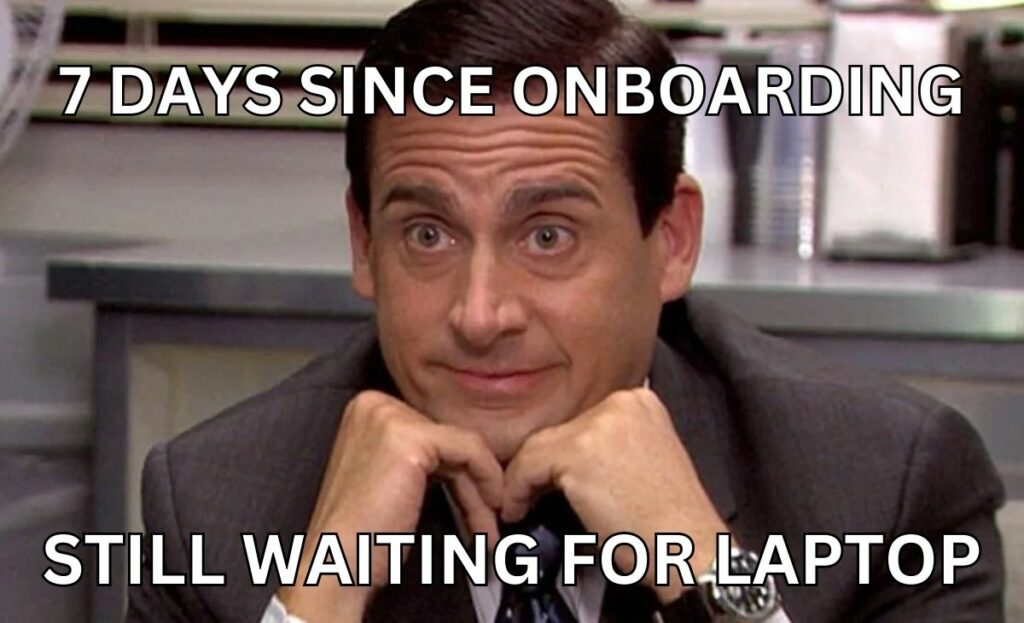 You maybe have wondered how slow Onboarding process has been in one of your workplaces. Well, they are hiring you because they need more hands to do all the work, so that's why these tasks for you are forgotten. Just remember nothing ever goes smoothly – be patient and understanding.
You are telling me now?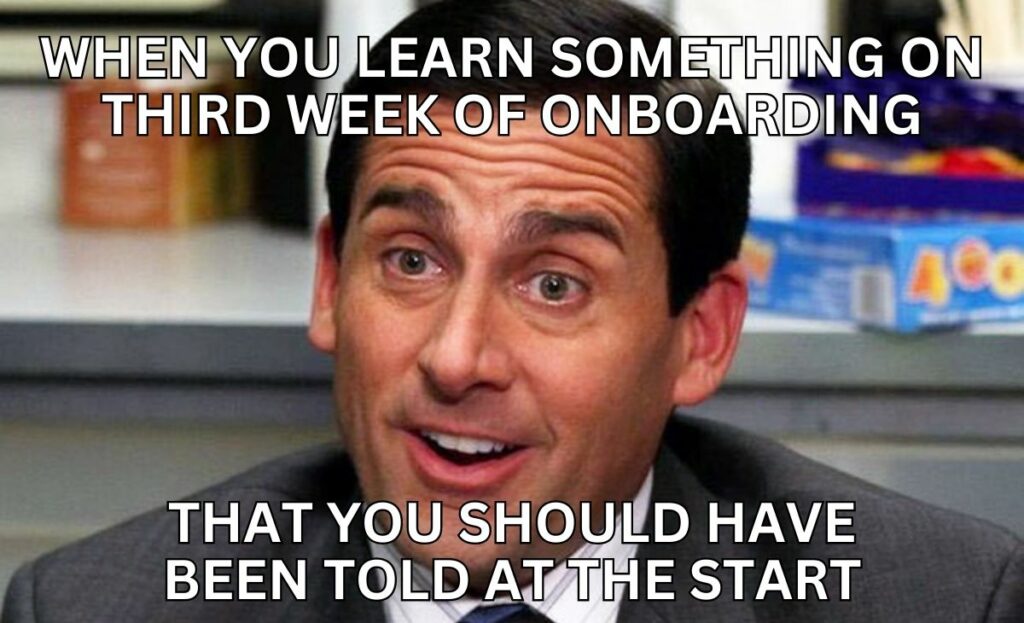 There is so much to cover when welcoming new employee, that sometimes some major information tends to stay hidden for weeks. Only positive from this is the reaction of the employee. Let us know in the comments what was something you found out weeks into onboarding!
The reality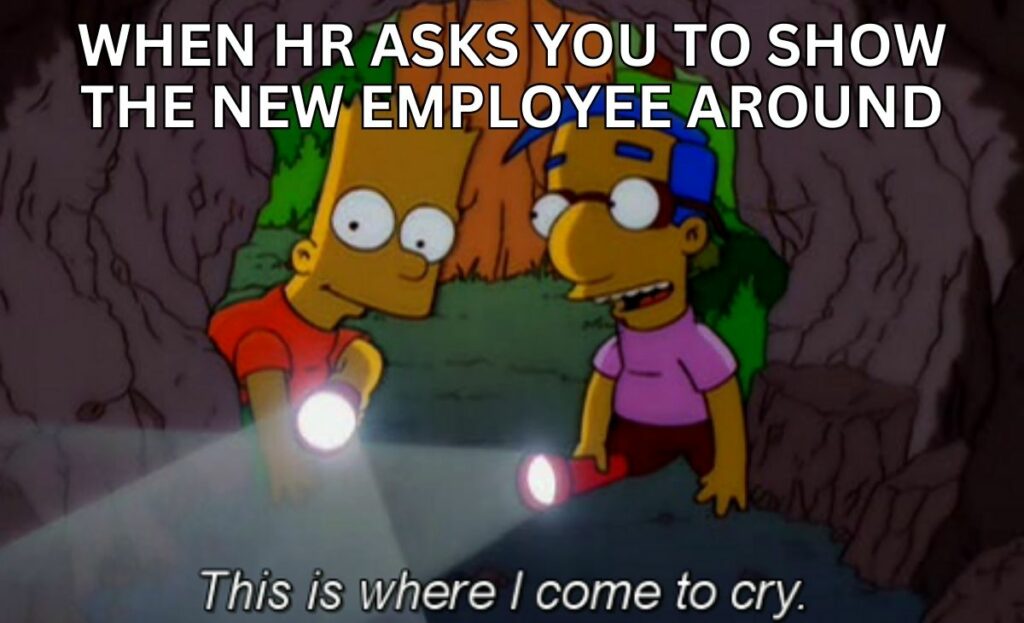 There are probably some workplaces that are so demanding they require hidden places to go hide and get hold of yourself. We want to believe that is not the case for office jobs.
It all starts with onboarding that you have to get through. Once it is done, you will feel a lot more comfortable and competent in your new job position. Soon enough it will feel like your second family!
Hope you enjoyed these onboarding memes! Got any more? Don't hesitate to share some!