One of the most crucial steps of human resource management is the hiring and new employee onboarding process. This very first step needs to be straight, smart, and unique. The success of any organization is highly dependent upon it.
Similarly, Mcdonald's wanted to make their hiring and onboarding process better. The constant changes in the market have made the competition even tougher. If organizations don't know to adapt to the ever-changing market trends then they will be left behind in the race.
The world's largest food chain, Mcdonald's serves around 70 million customers daily across its 39000 outlets and heavily relied on hourly workers for its operations. It currently conducts over 1 million hiring employees per year.
To manage its hiring and onboarding more effectively, it launched McHire, an AI-enabled recruiting assistant. In this blog, we will further discuss what McHire is, its features, and how successful it has been for Mcdonald's.
About McDonald's
An American-based multinational fast-food chain, McDonald's Corporation, was founded in 1940 by Maurice and Richard McDonald. From a hamburger stand to franchisees, McDonald's famous golden arches are now instantly recognizable. It is the world's leading food service brand in more than 100 countries with more than 36,000 restaurants.
What is McHire
McHire is a candidate-centric hiring software that was created specifically for restaurant owners at Mcdonald's. It has an AI-generated recruiting assistant which works 24/7 and processes the applications of candidates for various roles.

The AI assistant Olivia asks various pre-screening questions and gathers data about the candidate. The process is quite interactive and engaging. The system itself determines if the candidate is suitable for the role or not and then sets him up for the interview.

The purpose of McHire is to provide its candidates with a personalized and human-centric experience. It will enable them to have a consistent and fast engagement. Candidates' queries will be handled at all times.
When it was formed
It was pretty much expected from Mcdonald's to come up with McHire, because of its history in organizational innovation. This unique talent-hiring platform was launched by McDonald's Corporation and Paradox in 2019. It was developed to specifically cater to the needs of all Mcdonald's restaurants globally.
The success of McHire
Following the rollout of McHire, some remarkable results have been seen since then. Below mentioned are the outcomes after its implementation:
The time to hire was reduced by 65%
As compared to the previous system there was a 20% increase in applicants completing the process.
As per the survey, candidates rated four or five out of five as their experience in Dec 2022
Restaurant managers saved three to five hours of their time per person per week.
The time duration of shortlisting the application and scheduling the interview shorten from three days to three minutes.
The candidate satisfaction rate became 99%
Interesting features of McHire
McHire powered by Paradox's has some following interesting features which every HR dreams of:
Olivia the AI
Olivia, the AI assistant, comes into action once the candidate registers himself for a vacant role. She would gather all relevant data and ask them several pre-screening questions. The candidate will also complete an interactive assessment form.
After this, Olivia will screen the candidates and then automatically set their interviews if successful. This new method is the quickest, easiest, and less time-consuming for applicants and employers both.
Candidate & recruiting experience
The Mchire software is well-integrated with multiple channels. This includes the career website of Mcdonald's and a digital menu board that provides "text to apply" experience. All of it synchronizes the candidate and customer experience.
The integration makes it interesting for candidates to apply. The average time that a candidate spends on the application has now come close to the time a customer spends on drive-through. The ability to recruit faster is a huge competitive advantage for Mcdonald's.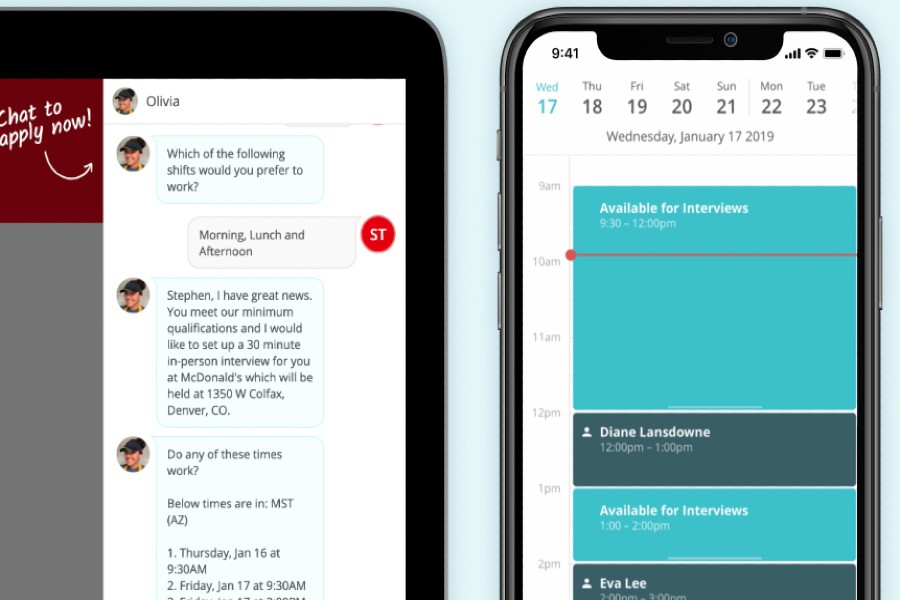 How it works
Create account
If you are looking to apply for jobs at McDonalds then you simply need to go to McHire website through your browser or app. Then you must go to "sign up for McHire" and create your login account.
Complete profile
Once the account is created, the applicant is required to go to the "menu", and "setting" and click " my profile". You will now fill in all your personal details which include your phone number, your interview availability time, and more.
Notifications
After setting up the profile, go to "menu", "setting" then "alert management". It will give you options to either to set up or to set up not an alert. It will include candidate submission alerts, candidate message alerts, scheduling alerts, and more.
My jobs
The next task is to go to "menu" and then "my jobs". It will give you a list of all open jobs available. The applicants can easily look for relevant jobs and apply accordingly. It will show all jobs in the candidate-selected region.
Interview scheduling
Once all the above steps are completed, Olivia will screen candidates to assess their eligibility and auto-schedule their interview. She will engage with candidates through texts and will provide real-time responses to applicants.
Hiring & onboarding
After the interviews, Olivia will do follow-up, paperwork, and other onboarding tasks. During the hiring process, the candidates will not have to wait for managers to respond instead Olivia would be replying to them instantly.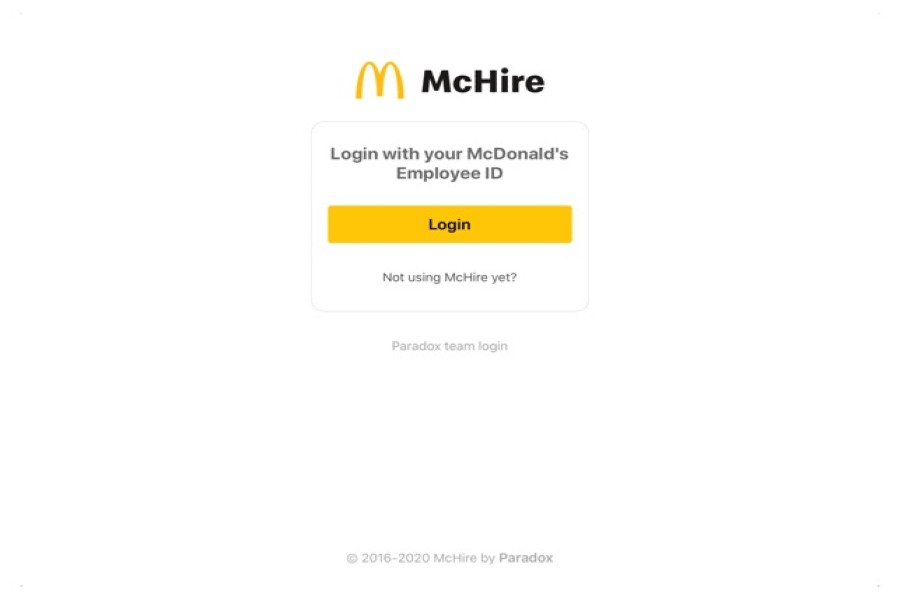 Final Thought
Ever since COVID-19 occurred, many industries have been facing uncertainty with staffing. Mcdonald's does not stop here McHire, it is planning to evolve its functionalities and features. It has also added integration with Traitify which is a picture-based personality assessment.
McHire's ability to hire faster in an engaging way has been a remarkably successful journey for McDonald's after the difficult times of the pandamic. This inventive experience is indeed an encouragement for other companies to climb their way up in difficult times.
Similarly, McDonald's introduced another inventive award-winning digital experience called McWelcome. This makes it easier for managers to handle their employees. By creating a good experience employees tend to give back to the company by being more productive.