A strong new employee onboarding process can help organizations in increasing their level of commitment, engagement, and loyalty. Therefore, companies should come up with unique ways and strategies to make their process stand out.
An American multinational food chain, Mcdonald's was facing some key challenges concerning their hiring and onboarding process. With the changing dynamic working conditions, they were not able to cater to the digital demands and expectations of their employees.

To overcome it, Mcdonalds' came up with the award-winning digital employee experience called McWelcome. It is a platform that is focused on giving better and more advanced experiences to its employees and managers.
In this blog, we will look into the details of the inception of McWelcome, why McDonald's felt a need for it, and how it is giving benefits to employees.
About McDonald's
An American-based multinational fast-food chain, McDonald's Corporation, was founded in 1940 by Maurice and Richard McDonald. From a hamburger stand to franchisees, McDonald's famous golden arches are now instantly recognizable. It is the world's leading food service brand in more than 100 countries with more than 36,000 restaurants.
What is McWelcome
McWelcome, launched in October 2017, is a digital employee experience created by Mcdonald's partnered with Learning Bank. Mcdonald's faced a lot of challenges when it came to training its employees. They didn't have enough time to train each employee
The purpose of McWelcome is to provide its employees with an excellent experience and training from the very beginning so that it also becomes easier for managers to handle their employees. A good experience will make them happier. They will be willing to give back more.
The Orientation Game
McDonald's launched the orientation game in May 2018 which was an extra element to their preboarding in McWelcome. It was developed by Katrine Schelbli, Senior HR Consultant at McDonald's Denmark and Stine Schulz, CEO – Learning Bank.
The orientation game is a board game that is linked to a PowerPoint. The new hire will play this game with either his colleagues or boss to get familiar with each other and to obtain knowledge on how to work together. Since new employees are bombarded with a lot of information this game can help them out.
Challenges Faced
Service giant, Mcdonald's was facing the following challenges regarding the hiring and onboarding process:
Mobile Accessibility
McDonald could feel that it needed to make an effort on creating a positive employee experience. The new generation was in dire need to feel it through the digital experience.
Therefore, they needed to introduce mobile accessibility which would help them speed up the development of their program. With a fast-paced working environment, they can no longer do it at a slow pace.
Time-consuming
Another crucial challenge that McDonald's faced was that it was taking too much time to hire and onboard their employees. Since they are operating for long hours and are open 24 hours a day and 7 days a week, they don't have time to focus their attention on recruitment.
The work of McDonald's may seem quite easy from the outside but it's not. Employees are required to learn about food, health, safety, hygiene, and specific procedures. All this requires time and attention. They cannot simply shut down their operation to perform interviews.
Training
Training employees is the most crucial part of the onboarding process. It requires time and effort from the company. According to restaurant managers at McDonald's, it was also one of their crucial challenges
The training can only take place when the franchise is open. They cannot simply close it just to make their employees learn. This can result in great financial loss. This can be one of the biggest challenges as the success of any business is highly dependent upon it.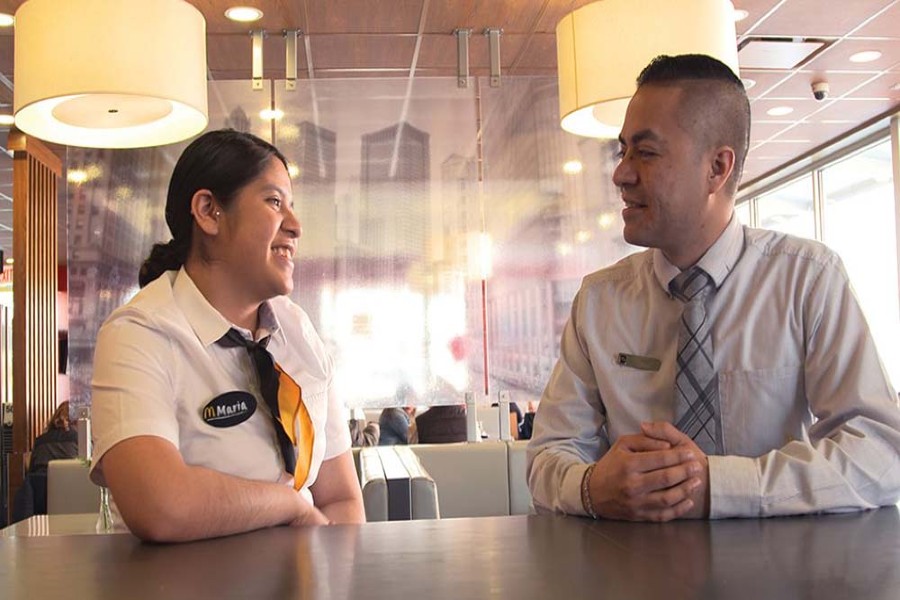 Solution
McWelcome became the answer to all challenges that McDonald's was facing. Following are some of the solutions:
Digital solution
We are now living in the digital era where completing tasks manually has become outdated. Employers now have to step up and provide their employees with an engaging experience to make them learn quicker. McWelcome allows Mcdonald's to offer digital solutions to its employees.
The potential applicants can now apply for their respective job through their smartphones. They now no longer need to upload resumes instead they can now upload an interactive video of themselves telling them why they want to work at McDonald's.
Learningbank
McDonald's was facing a hard time managing time when it came to training their new employees. The orientation at Mcdonald's was mostly manual. They needed a platform where they could keep all the training material in one place and which is easily accessible to everyone. The learning bank offered this solution.
They conducted their first meeting with Learningbank where they shared their learning vision. They offered them a single platform where they could cater to all their training needs. This provided them with the opportunity to have a quick training process in the fast service industry.
Systems to talk together
Another important purpose of McWelcome was to create ease for their restaurant managers. Mcdonald's did not have a well-integrated system, therefore they want their systems to talk together.
In this way, their recruitment system and new training platform will all be linked together and there will be very less administrative tasks for managers. They can simply set up new hires only in one system which will be present in all.
Final thought
In conclusion, McWelcome is the solution to all the problems. It allows them to engage their employees so that they can be more productive in their job.
This use of automation through apps further saves time for restaurant managers. They can now spend less time on-floor training and on administrative tasks
McDonald's further also automated their hiring and onboarding process through a digital app called McHire. Companies must monitor their processes and then come up with a solution to stand out in the market.