Employees are the true assets of the organization. They play a crucial role in contributing towards making a company successful. Unfortunately, the talent pool continues to shrink daily. Finding top talent has become more challenging than ever. For this purpose, employers tend to carefully spend their time, effort, and money on searching for a talented pool.
By giving this article a quick read, you will be able to understand what is a new employee onboarding process, why its important, its phases and how can we improve this process. In short, this blog is a road map for employers who are looking for increased productivity, employee retention, employee engagement stronger, employee experience, and building an effective talent acquisition strategy for employer branding
The contents of the article are what follows:
If you want to learn best practices on onboarding from well-known companies around the world, see Onboarding Examples.
Employee Onboarding Process
Once the top talent is hired, it is the responsibility of the organization to welcome new hires with open hands. This is their only chance to make their first best impression. If the employee decides to quit for a greener landscape, then all the effort of the human resource department will go in vain. So, the real goal is to make the new employee feel welcome, productive, and stay longer with the employers.
The term originated in the 1990s when top management was given a process of preparing their subordinates for jobs. Before the 1990s, this process was referred to as the organization's socialization.
Since then, many studies have been published on onboarding. The meaning of the onboarding process refers to the series of action and activities which makes a new employee well-integrated into the organization. It is the procedure where the organization makes sure that new hires adjust to the social and performance attributes of their job role as soon as possible.
Some organizations may take a day or two for their onboarding process while others invest months in welcoming the employee.
Here's a simple definition of employee onboarding:
New employee onboarding is the process of integrating a new employee with a company and its culture, as well as getting a new hire the tools and information needed to become a productive member of the team.

The Society of Human Resource Management
You will find several variants of them in our special compilation Definitions of Employee Onboarding.
The onboarding process is often confused with orientation. While orientation refers to the completion of necessary administrative and paperwork, onboarding is a comprehensive process that can last up to 12 months. All organizations ensure to onboard their employee, but quality makes a difference in the onboarding process.
Why is onboarding important
The importance of an effective onboarding process cannot be denied. Following are some of the reasons why employee onboarding is important:
Reduces turnover: Turnovers are expensive and not healthy for the company. According to SHRM, the cost to replace an employee is around six to nine months of the employee's salary. Onboarding helps in reducing it by making the new hire more engaged in the company.
Increases productivity: According to the Harvard Business Review, it takes typically eight months for new employees to reach they are maximum productivity levels but with an effective onboarding process, an organization can enjoy 62% greater productivity from their new employees. Thus, it is highly recommended to last the onboarding process for almost six months to one year to achieve increased productivity.
Provides competitive edge: An efficient onboarding comes with many benefits. These benefits make an organization achieve a competitive edge. This competitive edge will be their road to success.
Strong culture: Onboarding is a smart way to develop, maintain and communicate culture to new employees. It them to interact and influence the culture through their actions.
Boost employee engagement: The employee engagement level is at its peak during the first 90 days of employment as they want to prove themselves. Onboarding provides an excellent opportunity for organizations to make their new hires engaged.
Reduces anxiety: A strong onboarding process assists in not only welcoming them but also making them feel more valuable. This helps in reducing their anxiety. Human resource management should work on maintaining the organization's positivity, healthy working environment, and teamwork.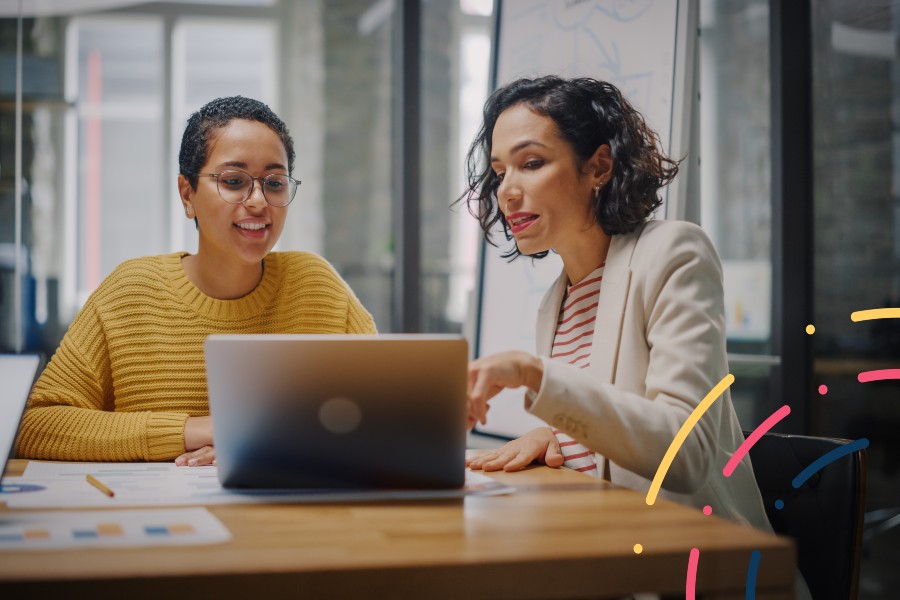 Phases of employee onboarding
Dividing the employee onboarding process into phases makes it easier to understand it. Following are the four phases of onboarding.
Phase 1 – Pre-boarding
It is recommended for organizations not let their new employee have a long gap between accepting a job offer and starting their new job. Instead, they should keep them engaged with various activities, interactions, and more.
This duration between a candidate formally accepting a job offer and the first day of their job is known as Pre- boarding. Signing or accepting the offer does not guarantee that new employees will appear on their first day. Studies tell us 1 out of 5 don't do so.
Pre-boarding should be focused on building engagement with new hires. Employers can send out a personalized welcome email, give them a creative gift, ask for feedback on the hiring process, get a head start with admin tasks, tell them what to expect before they ask, clarify onboarding schedules with calendar invites, invites them to pre-board hangouts, and more.
Pre-boarding may seem to add extra work to the busy schedules of HR but these pre-boarding strategies will give a new happy beginning to new hires. They will feel energized, excited, and pumped up for their first day.
Phase 2 – Meet & Greet
This phase of the entire meeting and greeting is dedicated to welcoming new employees. The new hires do not know anyone in the organization therefore it is necessary to introduce them and let other employees know beforehand about the new hire.
First day of new hires must be kept as simple as possible. Make sure to provide a detailed orientation to new hires and tell them about the alignment of culture with their work practices. Discuss attendance, payroll medical facilities, time off, attendance medical insurance, etc.,
Making an onboarding checklist list of the first days and months will be highly beneficial for employees and employers both. This checklist will make sure that no activity is missed, and that the objective of onboarding is achieved.
By the end of the day, HR can arrange for a quick meeting and ask for employee feedback. This feedback will help improve the process most effectively. With the help of a schedule, new hires will feel more appreciated and engaged throughout the day
Phase 3 – Job Training
The focus of onboarding training is on new hire learning and development within the organization. Human resources prepare training programs that will make new hires get a feel of their requirements and roles.
This period helps in building reassurance regarding his decision to join the company. This phase involves a lot of mentoring and coaching. In this phase, they identify and draft employee development plan.
It marks the beginning of the performance and talent management journey where the talent of a new hire is nurtured and harvested. Trainers and managers grab the bull by its horns and make new hire dive into learning.
Once this training is fully transmitted into a new higher, he firmly feels rooted in the business and focuses on higher growth and performance. It is ensured that these fundamentals are embedded properly will save the company time effort and energy.
Phase 4 – Transition to a new role
This is the last stage of the onboarding process. This phase ensures that new hires are now ready to become full-fledged employees. They and their employers have will clear expectations of each other.
Transitioning into your new role ensures that the employee is aware of his role responsibilities and duties. He understands the culture, mission, vision, and values of the company and is ready to dive in and be efficient.
Similarly, this final stage of onboarding also refers to ongoing development which involves creating a plan for continued personal growth and contact career. This long-term planning helps in making the new hire visualize how well he can contribute and grow within the organization.
Now, the employers, new hires along with his team members are on the same page and start to work together towards the success of their department and company as well. This on-boarding journey has made it easier for him to reach maximum productivity
Parties involved in onboarding process
The new employee's onboarding roles and responsibilities belong to everyone in the organization. The following parties have direct or indirect involvement, participation, and accountability in the process of onboarding.
HR Department
The human resources department is the mastermind behind the process of onboarding a new employee. They have a huge responsibility on their shoulder for planning, strategizing, recruiting, and making sure that the transition becomes successful.
For any new hire, HR is the first touch point. They have a huge responsibility of making sure that new hire feels welcomed and comfortable. Organizations must be aware of what of how to act and what to expect from the new hire.
Moreover, they are further liable for providing ongoing support to a new hire. Along with engaging them with the company, providing skill training, and knowledge sharing. Performing pre-boarding, recruitment, orientation, holding an introduction, hiring an onboarding specialist, and finishing this paperwork.
Training Department
The focus of an onboarding program is to help new employees adjust to the environment. Therefore, the training and development department benefits in fulfilling this purpose.
The training department is responsible for conducting training sessions or guiding them about the organization's goals, culture, objectives, values, and the technicalities of their role.
Moreover, they will train them about the technology of the company, vital procedures, and integrating them into internal systems. The goal of the training department is to enlighten them with technical skills so that they finish their tasks more confidently.
Manager
The direct manager plays a crucial role in a new employee's success. A recent study by BambooHR tells us that 33% of new employees believe that their manager has more influence on onboarding effectiveness
They are responsible for bringing the new hire into the company by conducting interviews and giving approvals. He also oversees explaining duties and responsibilities.
Moreover, he discusses work behaviors, and standards, and tours him to his department. New hires are also briefed regarding manager's expectations and what is expected.
Co-workers
A coworker either works with the new hire or is in the same role as him. They are responsible for sharing their knowledge and expertise with new employees and guiding them into the company.
They serve as a mentor and company connectors where they answer many questions. New hires can have a realistic understanding of expected behaviors and company culture.
It is also very important that existing employees should be applauded and appreciated when HR is introducing them to the new hire. He should not only meet the employee sitting next to him but also other co-workers too
Top Management
They also play a crucial role in helping the employee understand the organization's stories, mission vision, and strategic goals. Conducting a short meeting with them can boost employee morale.
They should lead from the top and find ways through which they can contribute value by getting themselves involved. If the CEO can show up at orientation or send a personal email to the new hire will make him boost his employee morale.
The new hire should be allowed to interact with the key members of the leadership team. They can also share the expectations they have from their employees Which will be helpful for them in the future.
Onboarding buddy
The onboarding buddy is the existing employee who is assigned the responsibility of educating the new hire and helping him get acquainted with the organization. He can further elaborate on day-to-day processes and bridge social connections
At times, a new hire may not be comfortable asking his co-workers questions. By spending time with a buddy, the new hire tends to become familiar with him. This relationship shall ensure smooth onboarding.
He can meet him on the first day, take him on a tour of the workplace, teach him unfamiliar tasks, and enlighten him about company guidelines, culture, and unwritten rules. Incorporating an onboarding buddy system will help in providing context and boosting productivity.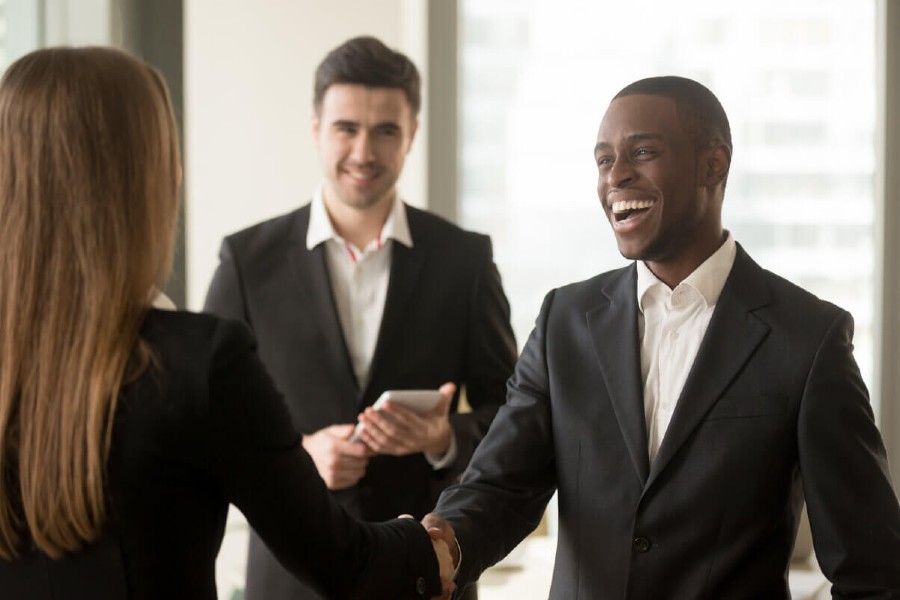 Improving new employee onboarding process
Human resource management should take steps and measures to improve the onboarding process. They can ask for feedback from the new hires or can also evaluate by using key performance indicators. This improvement will contribute to the long-lasting benefits of onboarding. The following are some ways through which we can improve the onboarding process.
Gamification
Work is never fun therefore HR specialists should be on continuous looks out for such opportunities to make the process a more meaningful experience. Using gamification in the onboarding process can make the experience more fun, engaging, and exciting.
Moreover, it encourages new hires to complete various onboarding tasks. Organizations can offer them points, badges, and discount coupons in exchange. According to a survey, employees feel that the use of gamification makes them feel 89% more productive and 88% happier.
Onboarding buddy
There is always a chance that the new hire may feel uncomfortable asking coworkers and their managers for help. Hence, it will be very effective to assign him to an existing employee known as an Onboarding buddy.
They are responsible for answering all questions regarding the role and the organization. Moreover, he will get him connected with other employees in the organization and support an effortless transition into his position.
Automation
The use of innovative onboarding software can make the process automated. Automating the activities of onboarding such as paperwork, induction, and so on can help in implementing the process smoothly.
The onboarding process is filled with numerous small steps which can be overwhelming at times. HR cannot efficiently conduct or manage each step and activity. Automation provides error-free onboarding which can bring the organization closer to its onboarding objective.
Digitization
Another way through which organization can improve their onboarding process is through digitization. The process of converting non-digital data into a representation of digital format is known as Digitalization.
Introducing digital documentation and digital signature can save their time and effort. Digitization is not only convenient for organizations, but it also brings standardization in the process. Moreover, it helps improve the efficiency of process quality and consistency.
Integration
The use of integration in onboarding is a strategic process. It is designed to ensure that new employees get to know about the organization's culture, values, methodology, and vision by avoiding any discomfort in the process.
With the help of interpretation in onboarding, organizations can facilitate new hires in the adaptation to the environment and work. New hires can understand the appropriate behavior of the company and also align with its expectations.
Conclusion
In conclusion, the correct understanding and implementation of the onboarding process will help the organization achieve the true objective of onboarding. The strategic thinking involved in this thought process of onboarding can be very rewarding for the company.
Once the organization can comprehend the entire process, they will be able to apply their creativity and automation which can make the process stand out. Employees will tend to stay longer with the company and recruitment efforts will not be in vain.
To design and improve your company's onboarding process, it is valuable to consult the best examples that will give you insight into the steps and specifics of the process.
So you can take a look at some of the best onboarding processes in the world: