Growing businesses are burdened with so much work that they don't have enough time to deal with onboarding complexities. There are numerous unique steps, meetings, activities, and sessions that are required to be completed in the onboarding process. The use of onboarding software helps them run many functions more smoothly.
Statistics show that a new employee must go through 54 activities during the onboarding process. Therefore, welcoming new talent and ensuring all his needs and requirements are met efficiently can be an overwhelming process. It involves a lot of paperwork, managing employee benefits, granting him access to systems, setting up his credentials, and so on.
Fortunately, onboarding software has come to the rescue of businesses and organizations. It takes a lot of workload off their shoulders by making the entire process digitalized. Organizations and businesses regardless of their size have been using onboarding software and gaining benefits from it. It is a tool that helps businesses in automating and streamline their process.
According to the Harvard Business Review, organizations using standardized onboarding process resulted in 50% greater employee retention. They can easily gather employee data, track its performance, and help them minimize errors in the process. It further ensures that higher employee engagement, better employee retention, stronger company culture, increased productivity, and stronger employee experiences are achieved.
Key characteristics to consider while choosing the onboarding software
The objective of onboarding shall be incomplete without using the software which is best for your company. Small businesses often struggle to analyze which features, or attributes would be fruitful for them. Following are some of the key characteristics which they should keep in mind:
A simple and intuitive user interface: Small businesses does not need to complicate the process. Their software interface should be such which is simple and appealing to users.
Easy onboarding software integration: They should choose such software which has easy onboarding software integration as it will save them their implementation time.
Affordability: The onboarding software must be affordable and within their budget.
Essential features: It is highly crucial that their onboarding software must possess those essential onboarding features which are required by small businesses.
Onboarding Software's for small businesses
Choosing the right onboarding software for small businesses can be a challenge. Here is a list of some of the onboarding software that can be highly effective and efficient for small businesses
BambooHR – HR software with heart
BambooHR is an American technology company founded by Ben Peterson and Ryan Sanders in 2008. The Utah-based company provides software that creates the best HR experience to be successful in their work.
Why choose BambooHR
BambooHR's employee onboarding focuses on creating better first days for new employees. It helps employers finish paperwork more quickly, have IT checklists, set welcome emails for new employees in advance, and have electronic signatures along with customized preboarding packages.
Moreover, the software allows the onboarding process to be efficient and organized. It is filled with many onboarding templates which tailor the new hire experience. For instance, the new hire packet template is personalized with job types, departments, locations, etc. Their software is also feasible for small to midsize businesses as it offers an affordable, simple, and straightforward solution.
ClearCompany – Leading ATS Software and Talent Management Platform
A pioneer in cloud-based talent management systems, ClearCompany was originally founded in 2004.
Why choose ClearCompany
Its onboarding software is easy to use, modern, and efficient. The employee self-service onboarding solution is equipped with all the information a new hire will need on their first day. The onboarding software is user-friendly and gives employees the ideal experience. Its mobile-friendly which lets the new hire complete paperwork and view their onboarding packet.
Furthermore, the auto-fill technology carries vital information which reduces errors and time spent entering redundant data. It conducts team members introductions, orientations, various sessions, automated tasks, notifications, bulk onboarding, payroll, and HRIS integration and easy reporting.
Efectio – Company Culture Management Software
Efectio is a platform that provides the service of deep data analytics which helps create a healthy and happy environment. Their mission is to offer innovative tools based on data, and science, and make sure that employees become engaged in their work. Its platform encourages employees to learn more about the company, its goals, and its objectives. Efectio uses tools based on gamification which turns boring content into exciting and fun.
Why choose Efectio
Organizations get to customize onboarding plans by using Efectio template and creating their personalized version of it.  Their solution is similar to social media platforms so that new hires can connect to their software more quickly. Employers can also create various tasks, and surveys and also check and track the performance of the onboarding process.
New employees gain points by completing the tasks and are awarded benefits by the employers. With the help of data analysis, they can spot the weak areas of the onboarding process and work on them accordingly. They offer interactive onboarding with VR technology which takes their onboarding plan to next level.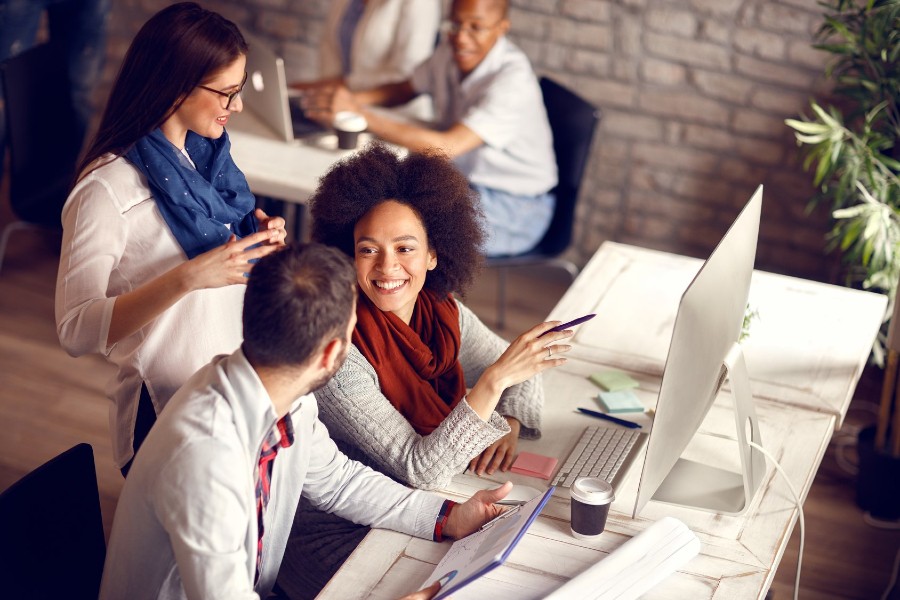 Comparison
Still, confused about which can be the right software for your small business? Software options can indeed be overwhelming. With the help of GetApp, a tech solution user trust company, we can easily compare software to a bunch of software. Let's go through the following data: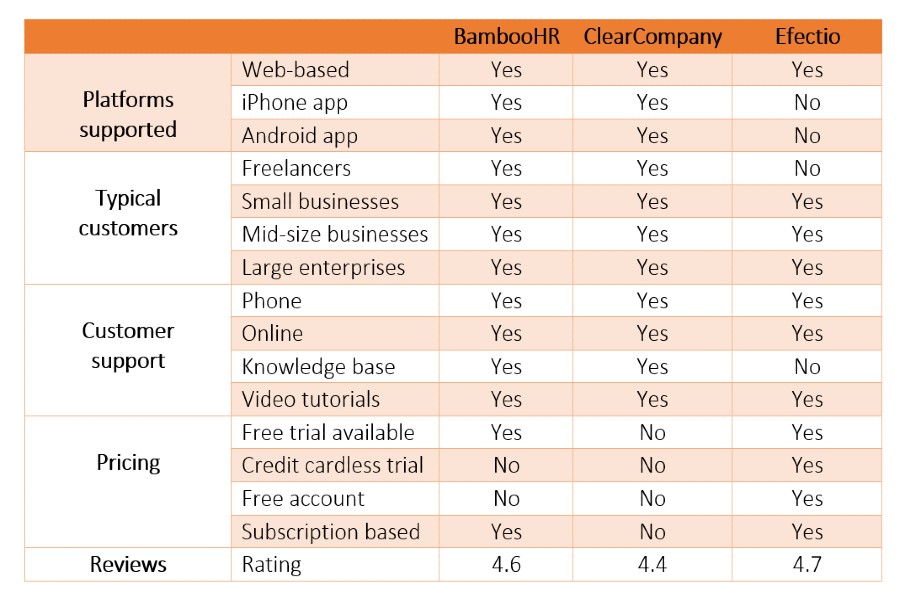 Which onboarding software to choose
In conclusion, identifying the right software for your onboarding process can help run a small business more effectively and efficiently. While identifying which small business software is most relevant, you should first analyze your budget and objectives of the onboarding process.
At times, you don't need some of the features that most software offers. So, if you want software that focuses on people and which is very easy to use, collect maintain and analyze people's data then you should go for BambooHR.
Similarly, if you are looking for user friending onboarding experience with payroll integration, reviews, analytics, and compliance then you should go for ClearCompany. If you as a small business looking for unique software, then Efectio will be best for you as it offers innovative tools using gamification.