Organizations irrespective of their size must consider using employee onboarding software for the implementation of their new employee onboarding process. The software will help streamline the company's HR workflow through task automation.
Without software, it can be difficult for employers to keep track of each onboarding task and deadline. The software plays an essential role in making the employee onboarding process digital.
Often software company provides interactive employee onboarding mobile app along with onboarding software In this blog, we will talk about HR Cloud which provides excellent onboarding software, and will examine why should organizations go for it.
About HR Cloud
HR Cloud started as a startup and now is one of the world's largest companies. It offers various HR software and solutions that help organizations automate their manual processes and drive collaboration and communication. This leads to achieving engagement to new levels.  
Cloud HR's mission is to improve an organization's employee experience which helps them in driving business results. Their goal is to build a such products which their customers would love. They use creativity to search for unique ways to develop the engagement of employees.
Benefits of using HR Cloud
The HR Cloud software comes with many benefits which lead to achieving the purpose of employee onboarding successfully. Implementing their software will help retain the talent for a longer period Following are a few of the benefits.
Improves HR Productivity
One of the benefits of using HR cloud software is that the organization will improve the human resources management department's productivity. By automating and streamlining the process, HR will be able to handle many tasks at a time error-free.
Deliver professional experience
HR Cloud software makes the process of onboarding reimagined. Organizations will get the tools they need to create a professional onboarding experience. The advanced workflows and reports will give them a competitive advantage over traditional onboarding.
Accelerate new hire's productivity
The onboarding software will not only save the time of the employer but also the time of the new hire. Once all the steps of the onboarding process will become automated, the sooner he can start to become a productive team member to his team.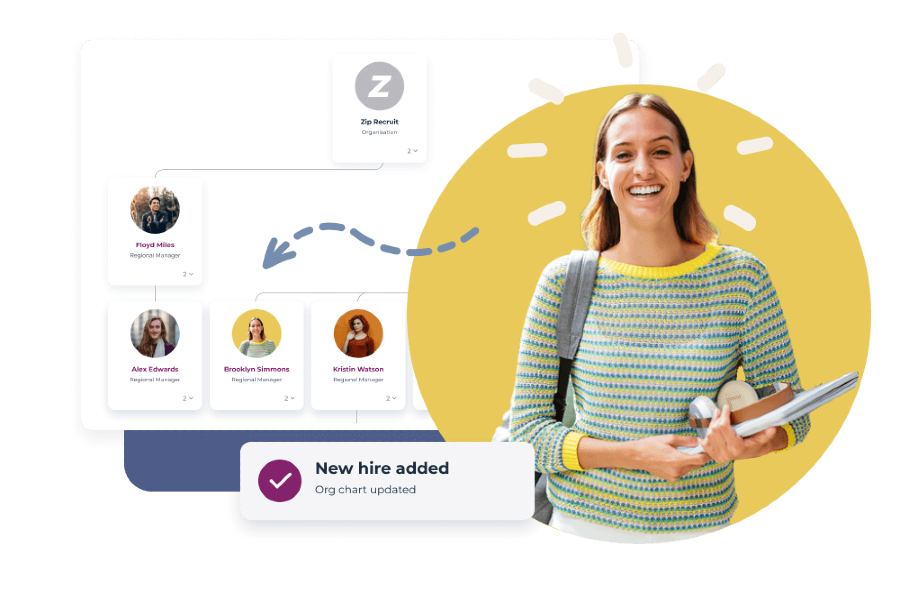 Why use HR Cloud onboarding software
If organizations want their new employee onboarding process to be successful then they must use good software which caters to all their needs. The following are the reasons why companies should opt for HR Cloud onboarding software.
Custom workflow
HR Cloud provides its customers with the opportunity to customize their onboarding workflow. They can further automate the entire process along with reminders of completed tasks.
Automatic Notifications
The onboarding software allows companies to automate their notification. They can easily create custom alerts so that companies don't miss any step of the onboarding process.
E- Verify & 1-9
The software offers I-9 and online verification services. All necessary documentation and verification are done by the software smoothly so that all important deadlines are met.
Employee Self Service Portal
HR Cloud offers an easy-to-use and customize employee self-service portal. Its interactive landing pages provide new hires with all the information they need to get a good head start.
Onboarding Supervision
The onboarding software is designed in such a way that it keeps an eye on schedules, paperwork, and deadline so that the organization can make any relevant report for new hires.
Employee Records
HR cloud onboarding software not only saves basic information about the employee but allows employees to add their interests and experience. Employers can also create custom fields.
E-Sign
Another helpful feature that HR Cloud offers is E- Signs. Employers and new hires can easily sign documents from any device.
E-Forms
The onboarding software has many inbuild and customized forms that can be easily converted into any document. Employers can say goodbye to taking care of papers and files.
Integration
The HR Cloud software is very well integrated and lets HR create a profile and manage the data of new employees automatically, efficiently, and effectively.
Final thought
Indeed, the importance of using onboarding software to automate the process of onboarding cannot be denied. It eases the nervousness and anxiety of new employees and also improves their productivity. Moreover, it ensures good workplace compliance.
If an organization is looking for about mentioned features, then HR Cloud's onboarding software can be best for them. HR Cloud has great customer reviews, is cost-effective, and has also won the Excellence in Employee Experience Award in year 2021 & 2022.
In addition to this, it also sends out a dedicated team to go above and beyond to help its customer and creates a long-lasting positive impact on every organization. They use creativity to challenge themselves to improve better.